ZenPoint KaraokeCenter
With ZenPoint KaraokeCenter you are able to navigate or search through your karaoke collection. Just pick a karaoke song and press play and you are ready to sing along. You can even put your karaoke songs into the current playlist to make sure the songs are played in the order they have been added.

ZenPoint KaraokeCenter has dual monitor support, which is great for parties where your guests are able to navigate and select songs while other guests are able to sing along to the current playing karaoke song.


Add Karaoke to playlist
KaraokeCenter is organizing your karaoke files through your mp3 tags or file names, making it easy to navigate through all of your karaoke files.

The KaraokeCenter is included in the DigitalCenter, and you are able to use this plugin together with all the other plugins inside the DigitalCenter.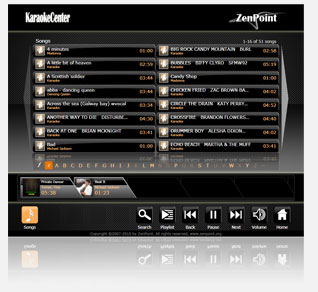 KaraokeCenter Features
CDG Navigation
Add to playlist
Dual monitor support
Party Mode Support
Easy Administration

Volume Control
Title Ordering
Multi Languages
Create Your Own Skin
Many Difference Effects

Remote control support
Part Of The DigitalCenter
Add Your Own Language
Mouse / Keyboard Support
Touchscreen Support